Dear Friends,
This year has been incredibly difficult. From the COVID-19 pandemic to the political and social unrest to the environmental disasters devastating our planet, we have all felt the impacts of this tumultuous year. No individual, business, institution, or organization has been left unaffected, including Legacy.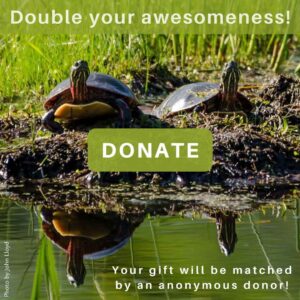 But, I am an optimist. Challenges make life interesting. Overcoming challenges makes life meaningful. And, the people you overcome those challenges with makes all the difference. With dedicated staff, partners, board members, volunteers, donors—and supporters like YOU—Legacy continues to bring a sense of wellbeing, peacefulness, and strength to Michiganders despite all we are facing.
Legacy's preserves offer a place for our community to engage with the natural world safely and find refuge in a stressful world. Your gift today helps Legacy provide safe places to connect with nature.
"Reichert fosters feelings of peace and safety in a chaotic world," said a visitor to Legacy's Reichert Preserve. "When I am there, I feel my shoulders relax and my jaw unclench as I take it all in: the reflections of trees on lakes and ponds, the fresh air, the sounds of bullfrogs, sandhill cranes, and a precious lack of man-made noise. During this precarious time of COVID-19, it's been a gift to share this space with other immunocompromised folx."
Your support makes Legacy's work possible and it helps me remain hopeful and confident about the future. Even though this year has been hard, we have accomplished so much with your incredible generosity. This year we have:
Achieved re-accreditation for the second time from the Land Trust Accreditation Commission
Completed a multi-project fundraising challenge that will protect 370 acres of ecologically and culturally significant land
Spent nearly 600 hours on the ground at our preserves working on trail maintenance and invasive species removal
Opened our seventh preserve—The Anthony & Rose Shatter Family Preserve
Fielded 10 land inquires resulting in two new projects and a total of 10 active land acquisition projects
Invested in technology upgrades allowing staff to seamlessly transition to remote work
Soon we will welcome a new year. The new year brings with it a fresh start and new opportunities. For Legacy especially, 2021 is an incredibly important year as we celebrate an amazing accomplishment: 50 years of protecting and preserving land in southern Michigan!
Taking time to celebrate a milestone like our 50th anniversary might seem frivolous given the current state of the world. But as a cancer survivor, I truly believe milestones—especially birthdays and anniversaries—are very special and should be celebrated all the time. We must celebrate our successes and be grateful for what we have overcome. Challenges like the pandemic may have slowed us down, but the silver lining is that it gives us more time to reflect, to navigate our future, to adjust, adapt, and make changes. And, it gives us the strength to persevere.
Join Legacy today in celebrating our 50th Anniversary with a gift of $50, $150, $250, $550 or whatever you can afford.  Your gift will be matched by a generous anonymous donor!
Over the next year, we will take a stroll down memory lane and feed our soul. We will recharge, reenergize, and re-center. We will honor our founders who started this work 50 years ago and we will say THANK YOU. Thank you to everyone who has supported us along the way.
A year ago, I never thought I would be leading Legacy into its 50th year under the circumstances we find ourselves in today. Even though this year has been full of challenges, Legacy is embracing our milestone year with hope, enthusiasm, determination, and an open mind!
With your support, Legacy is prepared for any challenges we may encounter now and in the future. We are extremely grateful for YOU. Whether you have been with us since the very beginning or have recently joined us, your support makes our work possible. Together we successfully navigated through the first fifty years. And, together we will continue the journey to ensure that the next fifty will be just as successful!
Yours truly,
Diana Kern
Executive Director
 PS – Make your gift today and do twice the good with your donation! An anonymous donor has generously pledged to match all donations up to $50,000!