From the Legacy Land Conservancy family to yours – Happy Thanksgiving! We are so thankful for you and your support.  Wishing you peace, strength, and warmth this Thanksgiving.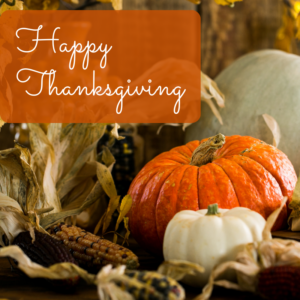 ---
Even with all that 2020 has presented us with, there is still so much the Legacy staff is thankful for…  
Krista – This year I'm finding myself grateful for the seemingly endless amount of wild and natural spaces Washtenaw County and Michigan have to offer. The forests, meadows, dunes, and rivers of this state have provided me with so much perspective and peace during a tumultuous year, and I've been lucky enough to share them with the people I love.  
Ann – I am thankful for all the amazing people in my life.
Diana – I am thankful for my family and friends who have been my "quarantine pod members" during this difficult pandemic year and always for everyone that supports our work at Legacy, especially during COVID-19! 
Erika – I'm thankful for:
My privilege
A full time job
A house to live in
My health
Government services
Hungry Harvest
Rivers, trees and birds
Allene – This year, I'm grateful for small wins and small comforts.
Susan – I am thankful that I was able to enjoy a beautiful summer with my family before the pandemic worsened. I am now so grateful that I have a warm, comfortable home to stay safe and be comforted in. It helps that I have a lap warmer!
Alice – I'm grateful for everyone who cares for each other at home, at work, and in the streets. I am also grateful for friends who support me, human and otherwise! (My cats say they are grateful for boxes.)
Pam – I am thankful for a full heart filled with wonderful family, friends, health, happiness, and love.