In 2007 the Lloyd and Mabel Johnson Foundation donated these 51 acres including farmland, oak hickory forest and a buttonbush swamp to Legacy Land Conservancy. Located on the south side of Ann Arbor, the preserve lies immediately adjacent to Pittsfield Township's Lillie Park with an interconnected trail system.
Start your walk at the Johnson parking lot and enjoy a mile-long trail which passes through a restored prairie, enters the forest and loops around the button bush swamp on the Harlie Smith boardwalk. A couple of trail connectors to Lillie Park trails branch from the woodland trail.
Fall colors are especially nice in this woodland. On your walk notice large oak and hickory trees marked with blue circles. These trees were marked at some point as "keepers" for the housing development that was to take place before the land was preserved by Legacy.
In spring and summer enjoy the tall grasses and beautiful flowers of the restored prairie, which was originally farmland. Download the Prairie Wildflower Guide (PDF)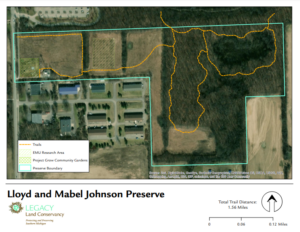 The trail map has been updated. Download the Johnson Preserve Trail Map (PDF)
To visit:
Address – Just north of 4595 Platt Rd., Ann Arbor MI (south of the south entrance to Lillie Park)
Parking – Parking is available in a small parking lot near the cell phone tower.