Prior to colonization, the land now known as Lloyd and Mabel Johnson Preserve was covered by oak-hickory forest and swamp. When Mabel (Lewis) and Lloyd Johnson purchased the land in 1940, a portion was cultivated as farmland. In 2007, their foundation–the Lloyd and Mabel Johnson Foundation–donated the land to Legacy Land Conservancy.
The 51 acres donated to Legacy included farmland, oak-hickory forest, and buttonbush swamp. In 2016, 15 of the 18 acres of farmland were converted into a restored prairie community. The remaining three acres were devoted to on-going projects managed through two community partnerships: one with Eastern Michigan University (EMU) and another with Project Grow.
Today, the buttonbush swamp remains nestled within the mature oak-hickory forest, the wetlands are an amphibian hotspot, and a diverse population of native grasses and wildflowers abound in the restored prairie. The Preserve adjoins Pittsfield Charter Township's Lillie Park to the north, with an interconnected trail system for easy access to both areas.
In spring and summer enjoy the tall grasses and beautiful flowers of the restored prairie, which was originally farmland. Download the Prairie Wildflower Guide (PDF)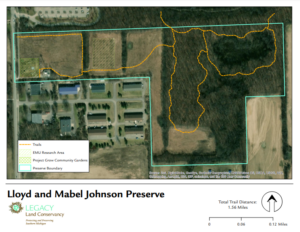 The trail map has been updated. Download the Johnson Preserve Trail Map (PDF)
To visit:
Address – Just north of 4595 Platt Rd., Ann Arbor MI (south of the south entrance to Lillie Park)
Parking – Parking is available in a small parking lot near the cell phone tower.