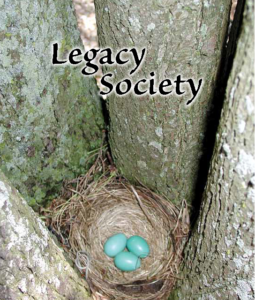 Our Legacy Society recognizes those whose values will be immortalized through a planned gift – a will, bequest, trust, annuity, insurance, or deferred gift – in support of Legacy's ongoing land protection mission. Click here to view a list of our current Legacy Society members.
Because so much of our land protection work is about ensuring that the places we save today will be protected forever, planned gifts are indispensable. There is no better way to continue to make a difference for land conservation in our community many years from now. "Planned giving" refers to future charitable gifts that require some planning now, before they are made.
As there are many options for making a planned gift to Legacy, always consult with your attorney to determine the type of gift structure that best meets your planning objectives.
If you wish to include Legacy Land Conservancy in your planned gift, here is the info you need for your documents:
Legal Name: Legacy Land Conservancy
Current address: 6276 Jackson Rd, Ste G, Ann Arbor, MI 48103
Federal Tax ID Number: 38-2899980
If you would like more information about including Legacy in your financial plans and becoming a member of the Legacy Society, please contact Diana Kern at 734-302-5263 x6004 or dkern@legacylandconservancy.org.
-Introduction to Bequests and Planned Gifts (coming soon!)
-Planned Giving Letter of Intent (coming soon!)
You may also email dkern@legacylandconservancy.org to request printed copies.
---
*Disclaimer* Legacy Land Conservancy does not provide tax, legal, or financial advice. Any document or information on this website or shared by our staff is intended to be educational only, and does not constitute legal or tax advice. Legacy Land Conservancy strongly encourages all of our donors to seek counsel from their own legal and financial advisors. Any information or documents shared by Legacy Land Conservancy cannot be used to avoid tax-related penalties.