The stories of the landowners who choose to work with us are interesting, entertaining, and gratifying. Over the years some of them have shared their thoughts about protecting their land and working with Legacy.
Tom Irwin and Jim Irwin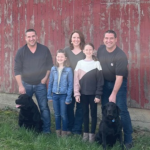 "At a young age our father instilled the value to leave the Earth better than you found it for the next generation, by putting the conservation easement on the farm, our family feels we are putting his values to practice."
158 acres, Grass Lake – Read more
Shannon Brines
"Purchasing a farmland parcel that already had a conservation easement on it most definitely benefited our small business.  It allowed us to buy twice the number of acres we could have with limited capital.  That extra space has allowed us to further diversify our fruit and vegetable farm."
80 acres, Webster Township
CAMPBELL and FRAN LAIRD

"I would encourage other landowners who are considering protecting their land to think seriously about it. If you value open spaces and open land, you must protect it now, not wait."
Fran Laird and her family donated the land that became Beckwith Preserve.
Anonymous landowner

"Thank you for walking and talking Dad (and me) through this. It is such a good feeling to know the land is preserved."
.
JERRY NORDBLOM and BARBARA MICHNIEWICZ

"I used to think about what the land will look like in 25 years. Now, it's a whole new perspective. I'm thinking more of what it will look like in 100 years."
25 acres, Webster Township
.
Jim and Mary White

"This place was hugely important to me for many, many years. It kept me sane, or as sane as I am now! We're really delighted at how it's worked out."
–Jim White, who with his wife Mary donated 119 acres known as Walden West to Adrian College for a "living classroom," which Legacy protects via conservation easement.
Stan and Helen Parker

"This gives our nephew and his wife a chance to stay in farming, and it leaves open space, which means a lot."
23 acre woodlot, Scio Township
.
DR. RUDY REICHERT

"Save it and don't pave it."
100 acres protected, Dexter Township
Dr. Reichert not only protected his "100-acre wood" in Washtenaw and Livingston Counties, but specified that upon his passing Legacy Land Conservancy would receive the protected land as a nature preserve for the public. The Reichert Nature Preserve is one of Legacy's most popular preserves.
Kendall and Nancy Rogers
"Pa and I were in partnership for a long time. Now my grandson can continue to farm our land."
43 acres, York Township
.
JOAN ROSE

"I really feel like I've done something that will last."
Joan Rose and her sister Carole protected the farmland that had been in their family for over 170 years.
.
CAROLYN STREITER
"This is the greatest feeling I've ever had, to save the land so that future generations can enjoy the beauty."
74 acres protected, Freedom Township
.
BRIGID SULLIVAN

"We all grew up on that land. We did not want to see it developed, so a conservation agreement was the right thing to do."
84 acres protected in honor of Agnes Hoey Sullivan, Webster Township
.
HARLIE SMITH

"Countless ways exist to create a legacy that will enhance the lives of those who inherit the world we leave behind. Legacies may certainly be formed through a bequest of money or other tangible property. But perhaps the most valuable and enduring way to create one is passing along cultural values to those who follow in our footsteps."
To read a memorial of Harlie Smith written by his family members, please click here.
.