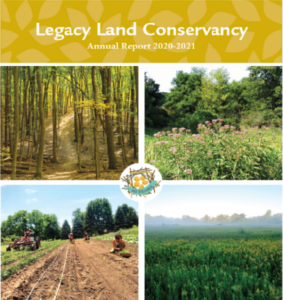 Challenging. Stressful. Inspirational. Thankful. Grateful. Hopeful. These are just some of the words that come to mind when thinking of the last year. When Legacy was thrust into uncharted waters navigating the uncertainties brought about by the COVID-19 pandemic in March of 2020, we did not fully know what the many months ahead had in store for us. However, we found strength in our ability to adapt and held steadfast in our new way forward. [Click here for the full report]
As Legacy's new fiscal year began in July of 2020, we were four months deep into the pandemic. Our physical office was still closed, and staff was working remotely. With more people than ever relying on nature and accessing our preserves, we remained committed to our mission and focused on our love of the land. We strategically continued our most important activities as they pertained to land protection, and we moved forward thoughtfully with a commitment to integrate justice, equity, diversity, and inclusion principles into our work and throughout our organization.
We leaned on each other, the generosity of our supporters, and the hope that better things would be on the horizon. Eventually, we said goodbye to 2020 and welcomed 2021, embracing a new year with a fresh start and new opportunities (the rollout of COVID-19 vaccines!) – and the chance to celebrate an amazing accomplishment: 50 years of protecting and preserving land in southern Michigan!
We are always proud of our Legacy team, but this year, we are especially proud. The dedication of our staff, board, and volunteers during one of the most difficult and challenging times in our history is a testament to Legacy's ongoing commitment to protecting land in Michigan—forever. We are truly inspired by our team and what we accomplished with the support of so many.
The pandemic may have slowed our work, but the silver lining is that it gave us more time to reflect, to navigate our future, to adjust, adapt, and make changes. It gave us the space to be thankful and the strength to persevere. And, it gave us the chance to connect in unconventional ways with many more of our current and past supporters than we ever thought possible.
We are so thankful for our founders and for everyone who has supported us along the way these past 50 years. Legacy is extremely grateful for the hard work and dedication of every volunteer, partner, trustee, staff, landowner, and donor—who has brought us to this moment. Our success is the result of a collective belief that protecting and preserving land is a responsibility we all share.
This year, taking time to celebrate a remarkable milestone, our accomplishments, and the wonderful people—like YOU—who make it possible, took us on an amazing journey. We emerged refreshed, recharged, and full of new energy and focus which will help us tackle pressing issues like climate change, the loss of family farms, dwindling wildlife habitats and species degradation, a lingering pandemic, and the increasing risks to Michigan's clean, fresh water.
As Legacy embraces the next phase of our work, we are committed to innovative land protection and making a larger collaborative impact as a trusted, professional partner. Recently, we officially added Lenawee County into our service area. We eagerly anticipate developing partnerships and growing our positive impact on important farmland and water quality in local watersheds and the entire Great Lakes basin.
Whether you have been with us since the very beginning or have recently joined us, THANK YOU! Your support makes our work possible and it helps us remain hopeful and confident about the future. Together we've successfully navigated through the first fifty years. And together we will continue the journey to ensure that the next fifty will be just as successful! We look forward to building a future of clean water, healthy ecosystems, accessible recreation, and a thriving farming community with you.
Yours in Conservation,
Diana Kern, Executive Director & Larry Doll, Board President
View and download the 2020-2021 Annual Report