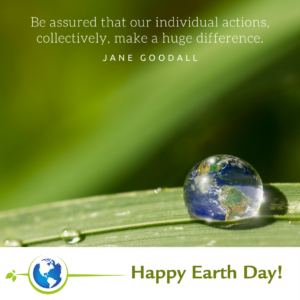 This week we're celebrating our love for the Earth with a self-guided hike through 
Creekshead Preserve
. This short walk – just over a half mile – takes you through a forested oasis of beach-maple-basswood trees and spring ephemeral wildflowers to enjoy the sounds of spring returning in the chorus of frogs that call the property home. 
Click here for directions to Creekshead Preserve
As we celebrate, we're acutely aware that many of the things we all love about nature are under threat due to climate change.  We've partnered with Alpha Phi Omega, an Eastern Michigan University service group to put together informational signs exploring how Legacy helps mitigate climate change locally. Our Earth Day signs are composed almost entirely of recycled materials, some donated by 
SCRAP Creative Reuse
 and some pulled from the local garbage pile by Legacy staff.
The signs will be up at Creekshead Preserve from Thursday (4/21) until Monday (4/25), so head out for your self-guided hike whenever it's convenient for you! And remember: we're not helpless in the fight against climate change! Together, our small actions will help create a better future for us all. 
Happy Earth Day!
In honor of Earth Day, Legacy will also be out at two other events on Saturday, April 23rd:
Beckwith Preserve workday from 10:00-11:30am led by the Stockbridge Area Wellness Coalition and SRSLY Stockbridge. Click here for details
Jackson County Conservation District's Annual Earth Day Celebration in the Park from 1:00-4:00pm. Click here for details.