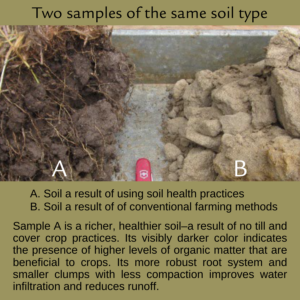 In 2021 American Farmland Trust (AFT) launched the Soil Health Stewards Program. It is a national effort to engage and support land protection practitioners–like land trusts–in promoting soil health practices with the farmers, ranchers, and others who own and manage permanently protected agricultural land.
The program focuses on targeting the more than 6 million acres of permanently protected farms and ranches nationwide to improve soil health, recognizing the lasting impact that this will provide to both the environment and farmers.
As part of the program, AFT is providing training, resources, and grants to help organizations throughout the country enhance their own efforts to support and incentivize landowners of protected land to address soil health. Recently, Legacy applied for and was awarded a $10,000 grant to participate in the program.
"When Legacy heard about the program, we immediately knew it was something we wanted to be a part of," Easement Stewardship Coordinator Clint McGill said. "Our service areas have large agricultural communities. As a result, a lot of the current and prospective easement landowners Legacy works with are farmers or own farmland that they lease out to local farmers. This program will help us connect landowners to resources from other local partners–an integral part of our conservation work–that could help them to improve the quality and productivity of their land while simultaneously benefitting our local ecosystems and watersheds."
Legacy has completed the training portion and created an action plan. We'll be implementing it over the next year and a half, but we're already learning about economic and environmental benefits of soil health practices while building new skills to support landowners in adopting these practices. We're expanding our network of soil health professionals in our service region. And, we are meeting with the local Natural Resources Conservation Service, Michigan Agriculture Environmental Assurance Program, and Conservation District staff so we can direct landowners to specific resources that can help them manage soil health or get paid for implementing better practices!
In the upcoming years, we anticipate developing more localized soil health education materials, training staff and volunteers on soil health basics, deepening relationships with local soil health experts, and connecting landowners with educational and grant resources to improve their land's soil health.
If you would like to learn more, contact Clint at cmcgill@legacylandconservancy.org.