By Camryn Brent, Huron Pines AmeriCorps member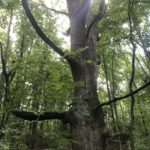 From the very beginning of my service, Sharon Hills has been my favorite preserve.  Even when I first started in January and there was no green life to be seen, I knew. I had felt the land reaching for me and pulling me in like it wanted attention.  I registered that my bias must be because of the preserve's similarity to the oak-hickory forests I grew up exploring in southeastern Oakland County, but I really think it was because Sharon Hills was subtly asking me to help tell its story.
Getting to Know the Preserve
As an AmeriCorps member you are given the opportunity to pursue independent projects under the supervision of your host site.  I decided soon after arriving at Legacy that for my service term I wanted to focus a project on Sharon Hills.
In my role as Preserve Stewardship Technician, I knew that in order to properly take care of land I must first know its backstory. To help me understand Sharon Hills, I found the main source of information for each preserve–the management plan. It's a companion document to the land itself that lays out the history of a property, outlines the vision for it, and identifies the management objectives to realize that vision.
However, after reading the Sharon Hills Management Plan, I struggled to make a connection between the document and the land. The plan was over ten years old and in desperate need of an update.  Natural lands are always in a constant flux.  And since the creation of its management plan, Sharon Hills had undergone a lot of change…not to mention six prescribed burns!  For that reason and many others, the Sharon Hills plan and its objectives from 2010 did not reflect the current state of the preserve.
In order to update pieces of the plan like "management units," it's necessary to know more than where invasive species are currently located. One also needs to look at history of the land and present-day species to understand what the land is trying to become. In simple terms, land stewards need to figure out what type of natural communities have been persisting so they may help the species found there, flourish. With that knowledge, it's possible to design management units suitable for the unique circumstances of each preserve.
Surveying the Land
One way to document and learn more about the existing natural communities at Sharon Hills was to conduct a plant survey. The last plant survey done on the preserve was in 2013 and I was excited to document the changes to the present-day Sharon Hills.  I worked with my supervisor Kyler to arrange three sets of survey periods that would cover spring, summer, and fall and make sure no species would be overlooked.
Before I even began the plant survey, my affection for Sharon Hills swelled when the first early-bloomers began to show themselves.  Flowering dogwood (Cornus florida), was the first budding tree to catch my eye in early March.
Fortunately for me, it was a controlled burn year at Sharon Hills and I would be able to see post-burn vegetation. I attended the burn in early April, watching as the Plantwise fire crew spread a slow-moving fire across the leaf litter.  Seeing the spring ephemerals like round lobed hepatica (Hepatica americana) pop up amid the charred ground just days after the burn was amazing to witness.
The first official plant survey day was May 31st and I focused on the main wetland area, an inundated shrub swamp. We had already spent time pulling herbaceous invasive garlic mustard there, so I had a pretty good idea of the spring plants we'd find at the time.  Plus, sedge species flower in the springtime and I knew wetlands could harbor abundant sedge species.
Next, with the help of my AmeriCorps partner Ally and several other AmeriCorps members who drove down from various host sites, the bulk of the preserve was surveyed in the summer.  Over three days in mid-July, we used a meandering method, tracking our movements on a map to make sure we achieved thorough coverage.  Each day we walked a different area of the preserve and wrote down all the species we found.  Since the cell service is spotty at Sharon Hills, we had to carry around hard copy dichotomous keys (Field Manual of Michigan Flora) and plant terminology books (Plant Identification Terminology-an illustrated glossary) to help us.  Sometimes we collected specimens to take back to the office to save time and cover as much ground as we could.
As summer continued, Ally and I spent many days at Sharon Hills waging war against the autumn olive thickets with a brush cutter and herbicide kill stick (AKA dauber) in hand. Whenever we went out to the preserve, I kept an eye out for any species I may have overlooked as well as those that were still too young to identify earlier in the season.  As an amateur botanist, heading a plant survey made me feel like an imposter. However, having many opportunities to revisit species was a life saver for me and my confidence. By the end of summer, we had gathered lots of good data to help us update the management plan and its management units, but we weren't quite done yet.
We saved our last survey for the fall–in late September and early October–looking for plants like asters and goldenrods that hadn't bloomed during our summer visits.  Lucky for us, we even found a native orchid species known as Autumn Coral Root (Corallorhiza odontorhiza), which was exciting!
What's next
As the air gets chillier and plants transfer energy to their roots, I know there will be no more new growth.  Although, that does not mean the survey is over. Now is the best time to wrap up data from the plant survey in a way that can inform new and existing management actions.  Before my time with Legacy is over, Kyler and I will use the plant survey information gathered to finalize new management units, which will help complete an updated Sharon Hills Management Plan. 
Stay tuned for my next blog post where I will share my findings from the survey!