On August 6th members of Senator Debbie Stabenow's staff took a tour of farms with conservation easements held by Legacy Land Conservancy and the Ann Arbor Greenbelt. The Senator is the Ranking Member of the Senate Agriculture, Nutrition, and Forestry Committee and she wanted her staff to see first-hand some of the properties protected through the Natural Resources Conservation Service (NRCS). Senate Staff Members were guided by Legacy staff Susan LaCroix (Land Protection Lead), Allene Smith (Land Stewardship Coordinator) and Diana Kern (Executive Director), as well as Remy Long of the Ann Arbor Greenbelt (Program Manager). A primary focus of the tour was to help newer members of the Senator's staff become familiar with Michigan agricultural systems.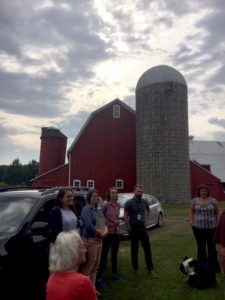 The NRCS provides funding in partnership with organizations like Legacy for eligible landowners to conserve working agricultural lands, wetlands, grasslands, and forestlands. Through this program, Legacy and our partners work with producers in the region to address soil quality and water quality degradation, and to improve, sustain, and build upon the Emerald Arc of conserved lands in southeast Michigan.
Here's How it all Comes Together
Legacy Land Conservancy most commonly protects agricultural parcels and natural areas by creating conservation easements for particular pieces of land. A conservation easement is a voluntary legal agreement between a landowner and a land trust or government agency that permanently limits uses of the land in order to protect its conservation values. Landowners retain many of their rights, including the right to own and use the land, sell it, or pass it on to their heirs.
The NRCS' Agricultural Conservation Easement Program (ACEP) is a program that helps landowners, land trusts (like us), and other entities protect, restore, and enhance wetlands, grasslands, and working farms and ranches through conservation easements. Legacy utilizes ACEP funding to help get important agricultural lands in Washtenaw and Jackson counties protected to secure a local food source and help to bolster the local economy.
Under this program NRCS may contribute up to 50% of the fair market value of the agricultural land easement.  Over the past 25 years NRCS has worked with landowners to protect more than 4.4 million acres of wetlands and agricultural lands, a value of over a billion dollars in a diversified real estate portfolio that has resulted in improved soil health, water and air quality, and wildlife habitat.
The money from this federal programs is made available through an annual state-wide competitive grant program through a Request for Proposals or RFP. In the event that we are awarded one of these grants, it will not cover the entire cost of purchasing an easement. Legacy Land Conservancy, like other land trusts, raises the balance through foundation grant funding, contributions from our generous donors, and, in some cases, in partnership with state funding and/or with local government agencies such as the Ann Arbor Greenbelt and the Washtenaw County Natural Areas Preservation Program.
NRCS also implements the Regional Conservation Partnership Program (RCPP) where partners within a smaller region, like a watershed, collaborate and request a grant to bring additional money from the NRCS to the region. For example, Legacy Land Conservancy is the convener of the Huron RCPP, which encompasses a portion of the Huron River Watershed. This allows landowners to work with Legacy, NRCS, and the other partners to compete for the technical assistance and easement purchase grants on a local level rather than statewide. This award brought an additional $1.8 million dollars to the region to protect water quality and southeast Michigan's nutrient-rich soils. Senator Stabenow continues to be a champion for this program.
At Legacy we know that securing the easement is only the beginning of our relationship with a given property. We bear responsibility for these natural areas and farms forever.  Once the easement is signed it becomes our job to make sure that the restrictions described in the easement are upheld. To do this, Legacy visits each property annually while working with the current owner, and all future landowners, to make sure that activities on the land are consistent with the easement.   
The visit by Senator Stabenow's staff was a terrific opportunity for us to showcase how, particularly through collaboration with other agencies, farmland can be conserved close to town preserving both agricultural use and wildlife habitat. Senate staff had the opportunity to walk and talk with some farmers who have directly benefited from the NRCS programs. Farmers were able to share their success stories and to explain, first-hand, some of their struggles. In one case, the latter was demonstrated by an unplanted field due to our excessive rains this year. Certainly, the staff members could have read about this problem, but seeing it in-person brought the gravity of the situation to a new level in their eyes.
The visit was also an excellent opportunity to thank the Senator, through her staff, for her work to keep these programs alive and for bringing more money to Michigan for such projects. In all, the tour allowed the Senate Staffers to tour 226 acres and see another 1,042 that have been protected through the ACEP-ALE programs.