Legacy has welcomed three new staff members and four new members to our Board of Trustees to enhance our knowledge and skillsets as we approach the organization's 50th anniversary. Susan LaCroix has joined us as our new Land Protection Lead, Scott Rosencrans is our new Associate Director for Development and Communications, and Ann Agler is our new Office Manager. Cindy Reach and Sandi Smith are brand new to the Board. Charity Steere and Jerry Nordblom are former Trustees who are returning to service.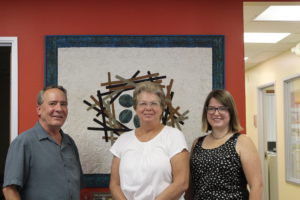 Susan started in April and brings a wealth of experience from having served with land conservancies in Michigan, Pennsylvania, New York and Washington State. She is returning to her home environs to connect with land owners interested in protecting their property with a conservation easement, conduct due diligence on projects to ensure the perpetuity of the easements, close on those easements, and keep us in compliance with new accreditation standards. She received Bachelor degrees from the University of Michigan in both Political Science and Environmental Policy and worked in Costa Rica studying rainforest ecosystems. She is passionate about protecting watersheds through sustainable land management and helping to keep land affordable for the next generation of farmers. In her free time, Susan enjoys sailing, knitting, cooking with local produce, and spending time with her family.
Scott's lifelong pursuit of serving the greater good started with environmental causes and it remains his strongest passion. He is an accomplished fundraiser whose background includes organizational development, communications, and community project development for several nonprofits in Michigan. He earned his degree in Public Administration and Nonprofit Administration from Eastern Michigan University and has served on a variety of local civic and nonprofit boards, commissions, and task forces. Scott served on the board of the Friends of the Ann Arbor Skatepark where he acted as Project Liaison on behalf of the local government partners and the nonprofit and helped to raise over $1.6 million for the popular park amenity. As a member of the Ann Arbor Park Advisory Commission he co-authored the strongest protections for natural areas in the City's history. In his free time Scott serves as a volunteer Park Steward for 93 acres of natural area parkland and enjoys a wide range of outdoor sports activities, as well as gardening and bee keeping, with his wife Helen Bunch and his dog Buddy.
Ann is a native of Northwest Indiana having grown up on the sandy beaches of Michigan City.  Both of her daughters were born in Milwaukee, WI, where they resided and where Ann received her bachelor's degree in Business and Management from Alverno College.  Previous to joining Legacy Land Conservancy, Ann was the manager of the NEW Center and a long-time office manager with Zingerman's Training.  Ann spends many weekends with her daughters and two grandchildren in Indiana.  She is a resident of Sunward Cohousing and is very interested in issues of sustainability and consciousness.
Cindy Reach is a longtime resident of Washtenaw County and partner at Reach Law Firm. While she has many specialties, she brings a strong background in conservation easement language. She spent the first twenty years of her legal career representing Washtenaw County and Lenawee County in state and federal litigation. She has represented various county departments including the Washtenaw County Parks & Recreation, gaining hands-on experience with conservation easements. Cindy has served on prior boards including the Washtenaw Area Apartment Association and the Ann Arbor Area Board of Realtors. She is currently a partner at Reach Law Firm in Ann Arbor, and most recently, joined Absolute Title, Inc. as in-house counsel.
Sandi started in real estate while still a student at the University of Michigan. In 2001 she and her wife opened Trillium Real Estate, an independent boutique brokerage in Downtown Ann Arbor. She has served on several local boards, including those of the Jim Toy Center and the Ann Arbor Downtown Development Authority, and was twice elected to the Ann Arbor City Council. She currently serves as a Director for the Michigan Realtors and as President for the Washtenaw Housing Alliance. She enjoys long walks around town and in the woods, and an occasional 5k run.
Charity Steere and Jerry Nordblom are returning members who have been asked back to serve. "Because Legacy is about to engage in a three-year strategic plan and will build on our Emerald Arc work, the board and I knew we needed people with historical perspective but who would also be future-sighted," Diana Kern says. "We are approaching our 50th anniversary and both Jerry and Charity helped Legacy get to this milestone," she adds.
Jerry is retired and was born and raised near Portland, Oregon. He has an undergraduate degree in chemistry from Oregon State University and a Ph.D. in Organic Chemistry from Colorado State University. During his career he worked at the University of Michigan Medical School and Pfizer. He is an active volunteer, board member, and mentor through organizations such as Reachout Michigan, Washtenaw Literacy, and Therapaws. He lives with his wife, Barbara Michniewicz, and 11 rescued pets on 28 acres in Webster Township, 25 of which are protected under a conservation easement with Legacy Land Conservancy.
Charity, the 2016 Abbey Gartland Stewardship Awardee presented by Heart of the Lakes to honor her years of conservation efforts, is also retired and brings her incredible knowledge and her interests in Jackson County to the board. She earned a BA in education from the University of Michigan and is a former branch librarian for the Jackson District Library. A resident of the Waterloo area for over 45 years, she led the successful campaign for the first miles of Natural Beauty Roads in Jackson County and is active in preservation efforts in the Waterloo area. She has served as the chairwoman of the Waterloo Hunter/Jumper Horse shows, and as a member of the Board of Directors of the Waterloo Hunt Club. She served four previous terms on the Legacy Land Conservancy Board of Directors.
These new additions to our staff and board will deliver more robust capabilities in fundraising, marketing, and land acquisition, and give us greater depth of experience providing oversight for legal and real estate matters while returning valuable long-term institutional knowledge. Please join us in welcoming these new members of our team by posting a note on our Facebook page and/or sending them an email via srosencrans@legacylandconservancy.org. As always, we would love to hear from you!