In reflecting upon 2021—our 50th anniversary year—we are so thankful for all that we have accomplished with the generosity and dedication of so many. Your support makes our work possible and for that we are thankful! May you enjoy the warmth of family this season and the harvest of the feast. From the Legacy Land Conservancy family to yours – Happy Thanksgiving!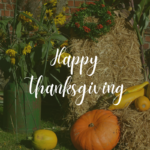 ---
Legacy staff is thankful for…
Kyler – This year, I'm thankful for;
hemlock trees, and their cool canopy on hot days 
the work we do, protecting the places people play 
my lovely partner, who loves to crochet
my family, our health, and the place that we stay
Allene – This year I am grateful for my daughter's earnest questions and my son's joyful shrieks. I'm grateful for good talks, and shared burdens. And I'm grateful for a new washer and dryer, which make laundry feel a little more like a hobby and less like a chore.
Susan – I am thankful for love, laughter, and adventure with my family and friends. I am grateful we have been able to stay safe and healthy during the pandemic. I am thankful for the frontline workers who are helping those who have not been as fortunate during the pandemic.
I am also very thankful for our local food producers who put in a lot of work to allow us to sustainably nourish our bodies.
Diana – I am grateful for the people that make up our Legacy staff. They motivate me to continue to grow, work harder, achieve our goals, and they make me smile every day. I have never been more thankful for a "work team" than the one at Legacy.
Ann – Thankful for my family and friends near and far.
Erika – I'm thankful for friends who brighten up my days.
Pam – I am thankful for every second, every minute, every hour, every day, every month, every year on this earth surrounded by love.
Krista – I'm grateful for connection, and the space to grow in that connection with each other and the world around us. It's in those connections we can find hope, solace, inspiration, and joy in a world that needs it more than ever. Whether it's online, around the dinner table, or on the river, I've relished in connecting with the people and places I love this year.