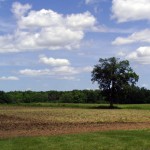 Want to protect your farmland – forever? If your answer is "yes" and you own farmland in Washtenaw County, consider submitting a nomination form to Washtenaw County Parks' Natural Areas Preservation Program (NAPP).  NAPP purchases farmland conservation easements to preserve farmland for the benefit of all county residents – people, animals, and plants. Legacy Land Conservancy works with NAPP to complete these farmland conservation easements.
A farmland conservation easement:
keeps your farm in your ownership.
means your farm will remain a farm, always.
is tailored to your farm's needs.
is permanent for you and all future landowners.
A conservation agreement is a voluntary agreement between a willing landowner and a local government or land conservancy that defines and restricts the use of the land forever.  It is strong enough to limit future development no matter the future owner, yet is flexible enough to be tailored to your unique land and farming goals.  You and Washtenaw County define the terms, you and future landowners abide by the terms, and the Washtenaw County ensures those terms are met.
To apply, download a nomination form at napp.ewashtenaw.org. If your farmland is not in Washtenaw County, Legacy may still be able to help.  For more information about NAPP farmland conservation easements or conserving farmland in other areas, contact Robin Burke, Legacy's Land Protection Manager, at 734-302-5263, or robin@legacylandconservancy.org.
The ultimate story of our farmland is yet to be written.