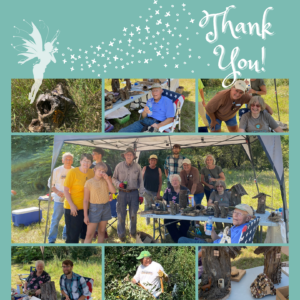 On Saturday, September 18th Legacy and fifteen volunteers met under the coordination of the Stockbridge Area Wellness Coalition's "Community Clean-Up Club" and the Stockbridge Area Arts Council for a workday and fairy house build at Beckwith Preserve.
For the first hour, volunteers of all ages worked together to remove autumn olive, an invasive shrub scattered throughout a half-acre open area surrounding the preserve's parking area. With thick gloves, loppers, and saws, volunteers cut the mature plants down and then trained Legacy staff treated the stumps with herbicide.
Drought and shade tolerant, autumn olive spreads aggressively, outcompetes many native plants, and requires significant time and effort to control. While the plant is best removed as a seedling—before it develops its seed-laden fruit, which can fall and germinate easily— sometimes the plant is too big to pull. Then, it is necessary to cut and apply herbicide to the stump.
Unfortunately, at Beckwith autumn olive is a dominant invasive species, so keeping it out of open areas is a never-ending task. Legacy and Stockbridge volunteers have been fighting this uphill battle at Beckwith for years. Two years ago, we removed all autumn olive from the center part of this same half acre. Although it will take years to catch up with its rapid spread, we are extremely grateful for the support of our volunteers. With their help we can accomplish days-long work in a few hours!
After clearing our goal area of autumn olive, the group took a much-needed rest and gathered under shade tents to build fairy houses, using all nature-friendly material such as sticks, acorns, and bark. What a creative idea and whimsical addition to Beckwith for visitors to enjoy on their next adventure! And who knows, if we are lucky, maybe the fairy houses will attract a few magical fairies who can make the autumn olive disappear. 😉
Special thanks to Jo Mayer, the Stockbridge Area Wellness Coalition, and the Stockbridge Area Arts Council for organizing the event, and to all the volunteers who participated!
For more information about autumn olive, click here