After an extremely successful first-time partnership with Huron Pines AmeriCorps last year, Legacy is excited to participate in the program again for the 2023 service year!
Thanks to Huron Pines AmeriCorps and generous funding through ITC Holdings, Legacy will benefit from not one, but TWO members this year. We are fortunate to welcome back second-year member Ally Audia and welcome newcomer Camryn Brent.
Expanding on the work started in the summer of 2022, Ally and Camryn will join the Preserve Stewardship Manager in the management of Legacy's nature preserves, performing tasks such as invasive species treatment and removal, preserve infrastructure maintenance, vernal pool monitoring, and leading volunteer work days.
Welcome, Camryn and Ally!
Camryn Brent Bio
Camryn grew up in Bloomfield Hills and has always felt closely connected to the natural world and her role in advocating for its protection.  Since graduating from Michigan State University in May 2021 with a degree in Fisheries and Wildlife, she has worked on several invasive species field crews across Michigan.  In her free time, she enjoys walking alongside her cat and watching movies.  As a Huron Pines AmeriCorps member, Camryn is excited to learn Legacy's work as a Land Trust while also expanding her conservation network in Southeast Michigan.
Ally Audia Bio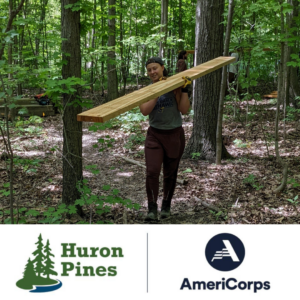 Ally was born and raised in Garden City, Michigan but spent most summers in northern Michigan where her passion for conservation biology was fueled by the beautiful natural resources she enjoyed there. She earned her B.S. in Biological Sciences from the University of Michigan – Dearborn. Ally is in her second year serving at Legacy as part of Huron Pines AmeriCorps and remains committed to the preservation and restoration of Michigan's natural ecosystems. In her free time Ally enjoys playing and watching basketball, biking, and reading comic books.