Legacy Land Conservancy is excited to announce the completion of Phase 1 of the Shatter Family Preserve Trail Project.  Phase 1 consists of 362 feet of newly constructed boardwalk divided into several segments along the trail system! This will allow visitors to avoid particularly wet and flooded areas of the trail, while still enjoying all the beautiful natural area Shatter has to offer.
Preserve Stewardship Manager, Kyler Moran, accompanied by Legacy's AmeriCorps member, Ally Audia, and Legacy's 2022 seasonal crew member, Chris Boyce, spent the three days in June (it was hot!) staging lumber, cutting materials to size, and assembling boardwalk segments.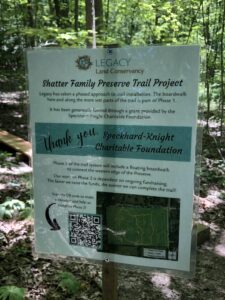 Phase 1 was generously funded through a grant provided by the Speckhard-Knight Charitable Foundation. Thank you very much to the Speckhard-Knight Charitable Foundation for making this project possible, and for allowing Shatter's preserve-goers a more accessible and enjoyable walk through this beautiful property.
In time, Legacy hopes to enact Phase 2 of the trail system at Shatter and install a floating boardwalk to connect the pre-existing trail system through the larger wetland area on the western edge of the preserve. However, the next phase is dependent on ongoing fundraising. If you would like to assist us in completing Phase 2 of the Shatter Family Preserve Trail Project, click here to donate!
We encourage everyone to make the trip out to Shatter to enjoy the boardwalk yourself! Enjoy Shatter's mature woodland forest dotted with buttonbush swamps, and listen to some frog calls as you walk.
Click here for directions and to learn more about the preserve!