The Washtenaw County Parks and Recreation Commission's (WCPARC) Natural Area Preservation Program (NAPP) and the City of Ann Arbor Greenbelt Program (Greenbelt)–two millage-funded conservation efforts in Washtenaw County–both run their own conservation easement programs. To date, they have protected almost 8,000 acres through conservation easements and each year they protect more. As the amount of protected land increases for each program, both have sought extra help to ensure essential aspects of the conservation easement process are completed.
And, that's where Legacy comes in!
In 2008 Legacy became one of the first conservancies in the nation to be accredited by the Land Trust Accreditation Commission. After a rigorous review process, accreditation is awarded to land trusts meeting the highest national standards for excellence and conservation permanence. It is a mark of distinction in land conservation and shows an organization's commitment to fiscal accountability, strong organizational leadership, sound transactions, and lasting stewardship of the lands it conserves.
Legacy has maintained its accreditation standing through two (soon to be three!) rounds of re-accreditation. More than an administrative step, the accreditation process ensures that we are meeting or exceeding industry standards in the day-to-day work of land conservation. These standards, and our meeting them, mean that our work keeps our promise of "forever". It also means we are uniquely equipped to assist other entities with certain aspects of their land protection work.
Our accreditation status is a badge of honor in the field, one that doesn't go unseen by other conservation programs we work alongside like WCPARC and the Greenbelt.
In addition to 100% accreditation-required monitoring every calendar year for all 100+ Legacy-held easements, Legacy has monitored 22 easements in partnership with WCPARC for many years. And in July of 2022, we began a new contract with the Greenbelt to help them complete baseline documentation reports and annual monitoring–two incredibly important steps in upholding conservation easements.
Unlike Legacy-held easements, which can be monitored by volunteers, the contracts with WCPARC and the Greenbelt stipulate that monitoring can only be done by Legacy staff members. And when we partnered with the Greenbelt to monitor their 36 easements, it pushed the number of easements we annually monitor to well over 150!
To handle this increase in monitoring visits, we welcomed Kyto Katori, Easement Stewardship Associate, to the team last September. His main responsibility is to schedule and conduct annual monitoring of all 36 of the Greenbelt's easements. But he also helps the team with baseline and current conditions reports as well as the careful fostering of strong relationships with landowners throughout Washtenaw County. He will continue to introduce and familiarize landowners with Legacy and remind folks what our role is as a partner in the conservation of their land.
In four months, Kyto completed monitoring all 36 Greenbelt easements for 2022. This spring he will begin monitoring a total of 66 easements–the original 36, plus four new ones, and 26 WCPARC easements. But that's not all! Legacy also needs to complete 11 baselines this year, and Kyto is one of only three staff who will be preparing baselines this summer.
The task list may be long, but Kyto is up to the challenge. "I'm excited to meet with Greenbelt landowners again and continue what I started last year," Kyto Katori said. "It's an honor to partner with the City of Ann Arbor and Washtenaw County as we all work to preserve important land for our community."
---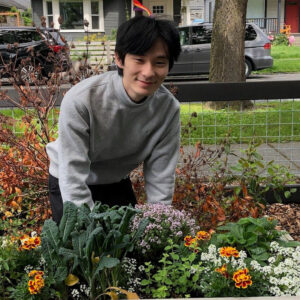 More about Kyto – Born and raised in the upper panhandle of Idaho, Kyto grew up with a deep connection to the natural world through the vast forests and wilderness of the gem state. His fascination for wildlife and natural ecosystems only grew as he earned his undergraduate degree in Environmental Science at Western Washington University. He moved to Michigan after working in a variety of government and non-profit organizations focused on restoration and preservation in the western Washington region. In his free time, Kyto can either be found at home trying out a new cooking recipe and enjoying a film, or outside tending to his garden or exploring new trails with his camera in hand.