By Kyler Moran, Preserve Stewardship Manager


During the 2023 stewardship season, we held 18 events on Legacy preserves. This year included 3 educational events in addition to 15 routine partner and public workdays, which is triple the amount we had last year! 
In all, we welcomed 124 volunteers during multiple workdays at Shatter, Johnson, Sharon Hills, and Beckwith Preserves. Combined, volunteers and staff spent over 600 hours on woody and herbaceous invasive plant removal, trail clean-up, and preserve infrastructure maintenance. And thanks to these collective efforts, we removed 62 garbage bags (approximately 1230 pounds) of herbaceous invasive species!
We are thrilled by all the work accomplished this season, but we are especially proud of the success of our partner-focused workdays.  Accounting for many of the volunteer hours logged, partner workday volunteers are tied to groups and organizations likes schools or companies that choose to volunteer on the preserves.
Our partnerships with Eastern Michigan University (EMU) and Lenawee Intermediate School District (LISD) student groups continue to be volunteer powerhouses for us and contributed almost half of our volunteer work. We also welcomed our first group of students from Ann Arbor Green Hills school and look forward to deepening this relationship in the coming years!
Not to be outdone by our student groups, on a rainy day in June, a small group of dedicated volunteers from Meijer Scio Twp Store #173 helped build over 60 feet of raised-plank-boardwalk in one day at Johnson Preserve!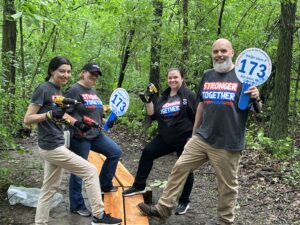 And while partner workdays have the most visible impact, low-key preserve educational events are becoming a vital part of the stewardship process too. Thanks to our Huron Pines AmeriCorps members, we held two new engaging learning opportunities through our very first Michigan Vernal Pool Patrol training and Prairie BioBlitz at Johnson Preserve.
Taking care of Legacy's preserves is an enormous responsibility and one that we can't do alone. I am so grateful for the amazing volunteers who dedicated countless hours to the stewardship of our preserves over the last year. Whether they picked up trash, removed invasive species, built and installed preserve infrastructure, or merely attended one of our education events, everyone's support was vital to the success of our 2023 field season! It is an honor to work with such an amazing group of people. Thank you, everyone, for making the 2023 stewardship season a success!
Special thanks to:
Jo Mayer for organizing the Beckwith Preserve workdays
Carly Kratz (LISD) and Dr. Emily Grman (EMU) for bringing out their students
Kai Garcia for bringing out the EMU Sierra Club twice
Ally and Camryn (Huron Pines AmeriCorps members) for leading workdays and events
Matt Medina for attending the most workdays of any volunteer this year