Dear Friends,
You've read the headlines. You've heard the news stories. Flooding in the Huron area after torrential rain slams region. Ann Arbor shuts down Huron River trips due to sewage overflow. Dangerous blue-green algae found in 2 metro Detroit lakes. Bacteria and viruses from human waste getting into Michigan water. Great Lakes set record high water levels, could continue rising.
If you're anything like me, you feel worried. You feel helpless.  You feel sad. You feel mad. It feels overwhelming.  You want to take action. You ask yourself: What can I do? How can I help? How can I help my community? How can I help my fellow Michiganders?
What if I told you that you can help by supporting Legacy's work?  I know what you're thinking: How can that be? Legacy protects land, not water.
Yes, but what many people don't realize is that if we care about clean water for drinking, agriculture, and recreation, we should care about what's happening on the land that our water flows through on its way to our faucet, crops, and beaches. Ultimately, land protection safeguards water quality.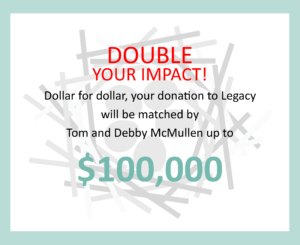 When you join Legacy in our efforts to protect land, you help protect our water.
The headwaters of four major rivers—the Huron River, the Upper Grand River, the Kalamazoo River, and the River Raisin—rise in Legacy Land Conservancy's service area of Washtenaw and Jackson counties and flow to Lake Michigan or Lake Erie.
This makes Legacy's work critical to an entire region: what happens on the land in these watersheds carries impacts for drinking water, wildlife, agriculture, recreation, and tourism throughout the Great Lakes Basin.  And, this means we have a major responsibility in the protection of 20% of the planet's fresh water.
Legacy takes our role in safeguarding this natural resource to heart. One of our goals is to protect high-quality land with stream frontage and healthy wetlands.  Most recently, Legacy, in partnership with a private landowner, placed a permanent conservation agreement on a 20-acre property in Dexter Township adjacent to Hudson Mills Metro Park.  It has frontage on both sides of a creek that feeds into the Huron River and has river frontage along the Huron River. Your support helps us preserve this type of land and directly improve water quality downstream by slowing runoff and removing pollutants before it reaches our waterways.
To date, Legacy has helped to protect over 9300 acres of land. Every acre we protect serves as a drop in the bucket, helping to ensure adequate water filtration, which protects water quality for our region.
As you look for ways to take action and help protect our Great Lakes, remember—Love Water. Protect Land. Give a gift to Legacy and join us in our efforts to protect land and help protect our water.
And best of all, to inspire your generosity community philanthropists Tom and Debby McMullen have pledged to match all donations up to $100,000! Make your gift today and double your impact!
Sincerely,
Diana Kern
Executive Director


Click here to watch our video "Love Water. Protect Land" and enjoy 7 minutes of pride in Legacy's partnership with land owners as guardians of the Great Lakes.