by Dana Wright, Land Stewardship Manager
My summers growing up were spent in the woods and lake surrounding my home. The youngest of seven siblings and step-siblings, I don't remember much direct interaction with my parents. I do remember wandering the forest wondering in whose footsteps I followed; spending hours at a time finding, picking and eating wild strawberries warm and sweet from the sun; and swimming, paddle-boarding, sailing, and rock hunting on the clear, cold, beautiful Torch Lake. Our roaming boundaries were set by the calling distance of a bell mounted on a ten-foot post rung with a knotted rope at the 7:00 hour. Our other rules were: no swimming without a buddy or a life jacket, and no TV during daylight hours. We were blessed to grow up wild.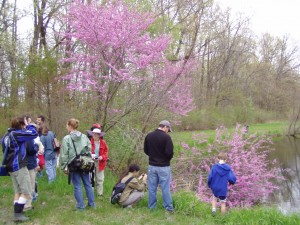 Protecting land forever is a pretty lofty goal. On the front end of that goal we engage landowners and write conservation easements, on the back, very very long end of that goal, we (and our descendants) steward the land. This is no easy task. Its face constantly changes with the needs of the community, the culture of conservation, and the available resources to achieve goals.
The perception that each living organism is connected to the landscape in a myriad of ways—some of which we understand, and many of which we don't, some of which we can control, many of which we can't or shouldn't—and the understanding that humans are as connected and as dependent on our landscape as every other living creature, comes from witnessing it first-hand. Our connection to the land is also the reason we protect it— forever. Fostering the type of connection to nature I experienced as a child is the best tool we have to make protection permanent in our local community.
At Legacy, fostering forever looks like:
interpretive hikes with fun themes (Cranes, Colors and Cabernet)

organizing and/or hosting classes to learn about land 

management (Conservation Stewards Program)

hosting workdays and engaging volunteers on a day-to-day 

basis in land management

keeping up-to-date on current technologies

blending volunteer independence, education, and 

ownership in our Eco-Steward program

building management and conservation easement plans flexible enough to protect conservation values while not 

hindering us in the face of change

making our preserves "user friendly" and engaging

keeping the lines of communication open with easement 

landowners

and partnering with other environmental organizations in the community (Wild and Scenic Film Festival)
All this is undertaken with the end goal of protecting enough land to support a local food source, fresh water, and places to play, right here where we live. Support the Emerald Arc—look for some of these events in this year's calendar and find your opportunity to help foster forever!