Happy Earth Day! Despite everything else being cancelled because of the pandemic, Earth Day is still on. It just looks and feels a little different this year as the health and safety of our community continues to be a priority.
While we are disappointed that we can't do our traditional on-site preserve workday due to the health concerns of social gatherings, there are still ways—locally and globally—to safely celebrate the 50th anniversary of Earth Day.
Each of us is in a different place, mentally and physically, during these uncertain times. We want celebrating Earth Day to be easy and we want you to do what feels right for you. As you navigate how to best reflect on this milestone Earth Day, please remember no matter how big or how small, there is no one right way to celebrate.
To that end, we are highlighting a few different activities you can do today (or any day!) to celebrate. We hope the following list will inspire you and help you appreciate the earth in whatever way feels best for you. Be safe, and Happy Earth Day!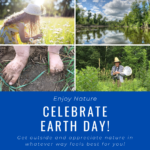 Enjoy Nature – Get outside and enjoy nature! Go for a hike, smell the flowers, dig in the dirt, plant your garden, take pictures, ride your bike, do yoga in the park…anything! Well, anything that fits within the current social distancing guidelines!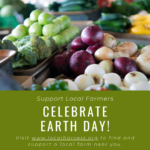 Support Local Farmers – Visit www.localharvest.org to find a farm near you. Here are a few we love: Vestergaard Farms (Ann Arbor), Frog Holler Farm (Brooklyn), Pregitzer Farm Market (Munith), Tantré Farm (Chelsea), Green Things Farm Collective (Ann Arbor), Whitney Farmstead (Ann Arbor), White Lotus Farms (Ann Arbor)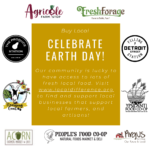 Buy Local – Our community is lucky to have access to lots of fresh local food. Support local businesses that support local farmers and artisans! Visit Taste the Local Difference to find one near you. Here are a few we love: Ypsilanti Food Co-op – (Ypsi), People's Food Co-op (Ann Arbor), Acorn Farmers' Market & Cafe (Manchester), Agricole Farm Stop (Chelsea), Roaming Goat (Grass Lake), Fresh Forage (Ann Arbor), Produce Station (Ann Arbor), Argus Farm Stop (Ann Arbor), Detroit Street Filling Station (Ann Arbor)


Take Action – Join the global digital movement. Visit websites like www.earthday.org and Earth Challenge 2020 to participate in online action with people from around the world.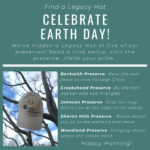 Find a Legacy Hat – We've hidden a Legacy hat at five of our preserves. Read a clue, visit the preserve, claim your prize. Happy Hunting!


Beckwith Preserve
A 90-step trot from the parking lot,
Left at the small bench,
Leave the trail YOU MUST NOT!
Straight at the post, and into the pines,
Before the next bench take a left that winds,
Through a nice clearing, a left after the next bench,
At the next sitting station you'll be seeing a trench,
Watch your step, Keep the creek on your right,
When you get to the bridge the hat is within sight!
Creekshead Preserve
Up the balloon string, then veer to the right,
Start seeing triangles right at head height,
Listen for frogs, take in the sights,
The sixth is a double where you'll find your delight!
Johnson Preserve
Near where prairie meets woods,
In a hollow, in shade,
At the foot of an old monster tree that's been laid,
You'll find on the ground what you seek, what was sought.
Congratulations to you!
You leave with more than you brought.
Sharon Hills Preserve
Deep in the center, on top of a hill,
A quiet bench placed
Where your mind can be still.
See wetland ahead, below and around,
Under your seat, the prize will be found.
Woodland Preserve
Straight as an arrow through the old field,
Into the woods, hope your boots are sealed!
In the next clearing the creeks will meet,
Hanging from a branch you'll find your treat!