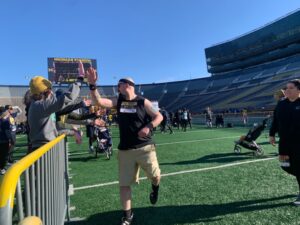 On April 10, Legacy staff, board members, and supporters spent a crisp, sunny Sunday morning outside doing something that we typically don't do – running a 5K, and raising a few bucks toward land conservation in the process!
Legacy Land Conservancy was selected as a beneficiary of this year's Big House 5K, an annual 3.1-mile charitable fun run, hosted by the University of Michigan's Athletic Department. The race takes place every spring to help raise funds for six local charities, with a route that winds through the University's campus before ending on the 50-yard line of the Big House, Michigan Stadium. We were joined by our friends at the NEW Center, Fostering Futures, Hire MI Vet, The Women's Center of Southeast Michigan, and Riverside Arts Center as this year's charitable beneficiaries.
We laced up next to 8,830 virtual and in-person runners to raise more than $20,000 for our mission to help build a future of clean water, healthy ecosystems, accessible recreation, and a thriving farming community together.  By protecting and preserving large swaths of land we are helping to mitigate climate change locally, capturing carbon emissions from our atmosphere and sequester it back into the soil. Your support helps to fight climate change right here in our own backyard!
Thank you to everyone who bought tickets, volunteered, and cheered us on as we ran the Big House 5K, and a special thank you to the University of Michigan's Athletics Department for selecting us as a recipient this year!