Join Legacy Land Conservancy as we celebrate 50 years of protecting and preserving land with our #50ForTheLand Challenge!
In partnership and through Toyota Motor North America's commitment to environmental sustainability, Legacy is challenging the Washtenaw and Jackson communities to visit one of our seven nature preserves and log 50,000 steps of exploration.
Join the 50 For The Land Strava club and take a walk, hike, or run with Legacy! Participants are invited to record their activities on the app Strava from May 10 – October 10, 2021 and share a photo to Instagram using #50ForTheLand for the chance to earn a prize and kudos. (Scroll down to get started!)
The person with the most steps logged on our preserves by October 10 will earn a prize pack from Legacy, featuring gift cards from several local businesses! All participants who reach the 50,000 step goal will also receive a small prize.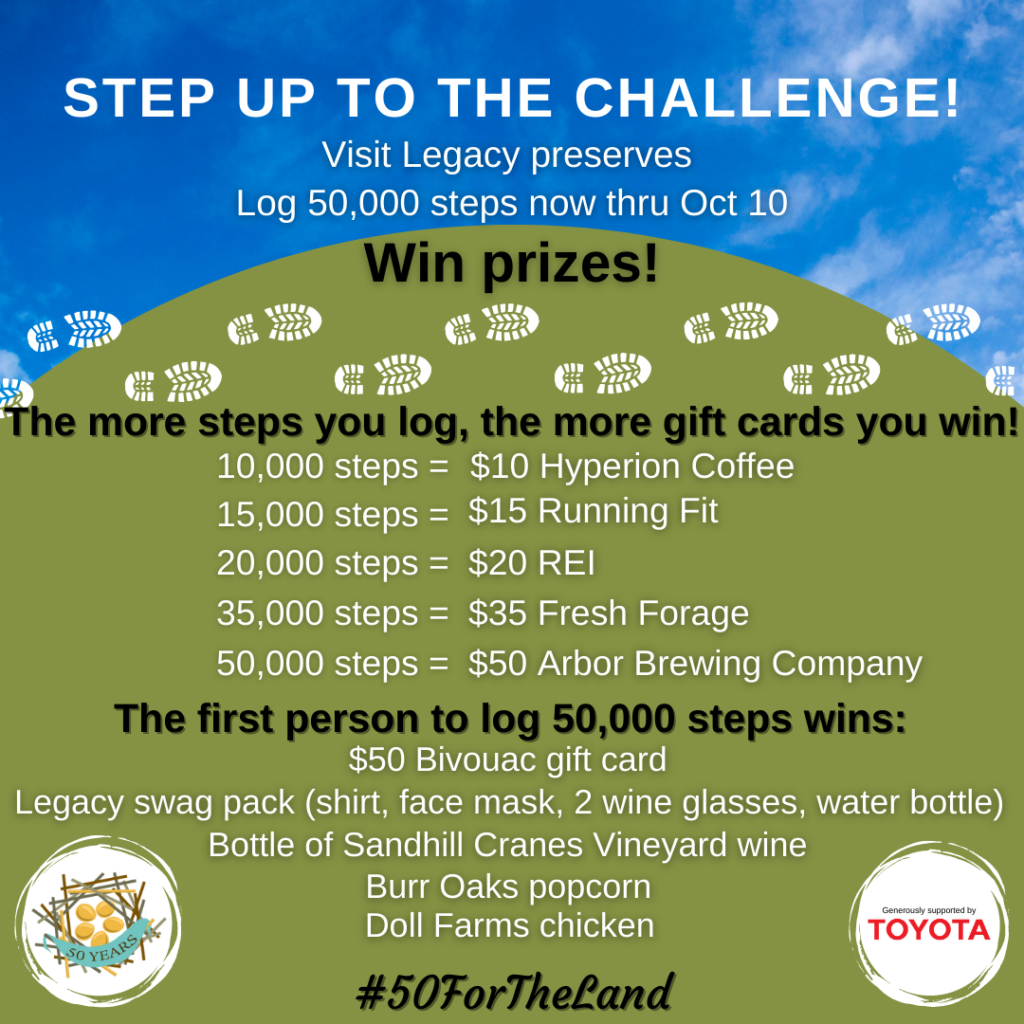 Get started!
Click here to join the 50 For The Land Preserves Pathways Challenge group in Strava. You will be directed to the Strava website. Click Join Club.
Not sure on which preserve to begin? Below is a brief guide to our preserves:
Anthony & Rose Shatter Family Preserve: Our newest preserve, located in Plymouth! This 25-acre preserve is home to a mature woodland dotted with various wetland types. Weave your way through beech-maple and oak-hickory forest and take in the property's buttonbush swamps and abundant populations of blue cohosh. Click here for details
Beckwith Preserve: Great for trail runners, this 30-acre preserve holds a mature pine and spruce plantation and an oak-hickory forest surrounding over 800 feet of frontage on Portage Creek. Home to lots of creatures, including whitetail deer, wild turkeys, and a great horned owl family! Make a day of it and head to the nearby Stockbridge Lakelands Trail State Park. Click here for details
Creekshead Nature Preserve: Less than a mile away from Shatter Preserve, Creekshead is a quiet oasis. It holds a beautiful mature beech-maple-basswood forest and is largely invasive-free. Because the ecosystem here is intact, spring brings spectacular wildflower blooms including carpets of spring beauty, wood anemone, and trillium with scattered plants of the more rare, Dutchman's breeches, squirrel corn, and the parasitic plant beech drops. Click here for details
Lloyd & Mabel Johnson Preserve: This preserve is tucked away on the southside of Ann Arbor, and connects to Lillie Park making it great for families! A wide array of ecosystems lie within its 51 acres, including tallgrass prairie, oak hickory forest, and a buttonbush swamp. See if you can spot the bee-friendly plants that help feed Project Grow's beehives on the property! Click here for details
Reichert Nature Preserve: This 92-acre preserve in Pinckney is our most secluded preserve, as access is available by written permission only. Great for people and families looking to experience nature while staying socially distanced. Email us at stewardship@legacylandconservancy.org for access. Click here for details
Sharon Hills Nature Preserve: Oak-hickory forest, kettle wetlands, and remnant prairie make up this Manchester preserve. One of its more striking features is its geology: it is an "end moraine" in the Jackson interlobate area and marks the maximum advance of the last glacier. This geology was formed between three glacial lobes 13,000 to 16,000 years ago! Click here for details
Woodland Preserve: Perfect for getting completely into nature, this Ann Arbor preserve has no managed trails. Explore this unimpeded meadow and woodlot and the Brookwater and Boyden creeks that converge in the woodland! Click here for details