Celebrating 50 Years of Protecting & Preserving Land Donate Today

Vernal Pool Patrol Training
April 13 @ 10:00 am

-

12:30 pm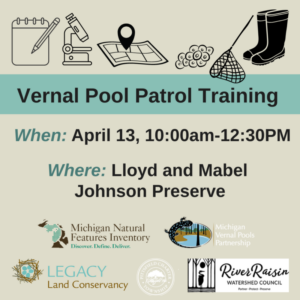 Join Legacy Land Conservancy, Pittsfield Township, and River Raisin Watershed Council in learning about a magical, yet common wetland; vernal pools! Vernal pools are wetlands that are small and often seasonally-flooded, meaning they do not contain water all year round. They play a critical part in maintaining the health of our northern forest ecosystems, but they often get overlooked and little is known about them. By joining us and gathering information on the distribution and status of vernal pools, you can become a part of the Michigan Natural Features Inventory (MNFI) state-wide citizen science program, the Michigan Vernal Pool Patrol (MVPP).
This is Legacy Land Conservancy's first year as a MVPP partner. Having been trained in surveying for vernal pools, we are in the process of mapping them on our preserves. On April 13th from 10-12:30 am  at Legacy's Lloyd and Mabel Johnson Preserve, we will be hosting a training on how to collect survey information for a vernal pool. This will include identifying vernal pool indicator species, soil, and habitat types.
Please dress for the weather and in clothes you don't mind getting dirty. Be prepared to get wet and muddy. Bring your muck boots or waders as we will be collecting water samples and looking at what we find under microscopes. This event is for people interested in helping Legacy monitor the vernal pools on our preserves. It is also open to families and people of all ages with a curiosity to look deeper into the biodiversity these unassuming pools contain.
Meet at the red gazebo in the parking lot of Pittsfield Township Lillie Park. From there, we will walk over to the Johnson Preserve.
To register, call 734.302.5263 or email kmoran@legacylandconservancy.org